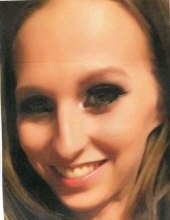 Obituary for Lisa Strickland
Lisa Marie Strickland of Coffeyville, Kansas was born October 20, 1988 in Jacksonville, North Carolina the daughter of Russell Sean Strickland and Paula Marie Freeman. She departed this life line on Thursday, October 12, 2017 as a result of an automobile accident near Iola, Kansas at the age of 28 years, 11 months and 22 days.

Lisa a homemaker and earlier was employed at QuikTrip in Grandview, Missouri and as a waitress at several restaurants. She had attended Sherwood High School near Creighton, Missouri. Lisa enjoyed being a stay home Mom, fishing, the outdoors and most of all she loved her family. She had lived in Garden City, Missouri and Coffeyville, Kansas before moving to Claremore, Oklahoma.

Lisa is survived by her two sons, Cayden and August Wyrick of the home; four daughters, Kylee and Brooklyn Wyrick both of the home, Kyra and Maliyah Oaks both of Urich, Missouri. her father and step-mother, Russell and Debbie Strickland, Harrisonville, Missouri; her mother, Paula Freeman and companion, Bobby Wyrick, Independence, Missouri; her fiancée, James Wyrick, Coffeyville, Kansas; a brother, Colton Strickland and her sister, Meghan Bruce, Liberty, Missouri; her paternal grandparents, John and Carol Strickland, Osceola, Missouri; other relatives and a host of friends.

Funeral services were held Thursday, October 19, 2017 at 2:00 p.m. at the Harrisonville Church of the Nazarene, Harrisonville, Missouri.



In lieu of flowers Memorial contributions may be made to the The Lisa Strickland Children's Education Fund and may be sent in care of Dickey Funeral Home, P.O. Box 432, Harrisonville, Missouri 64701.

Final arrangements entrusted to Dickey Funeral Home, Harrisonville, Missouri.