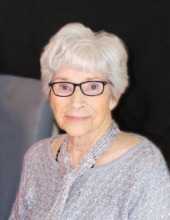 Obituary for Helen Rush
Loved and cherished by her family and friends, Helen Ann passed away February 4, 2018, in Belton, MO.

Helen was the first daughter born to Lawrence and Elizabeth Kennedy on February 29, 1928 in their rural farmhouse near St. Paul, KS. She was baptized as a baby into the Catholic religion and was a devout worshiper throughout her life. She attended Odell Grammar School, a one room school house, and graduated from St. Paul High School.
After WWII, Helen lived and worked in Chanute, KS where she met Clyde Rush, son of Guy and Nina Rush, of Chanute. They were married July 7, 1947 and were married for 68 years.

Helen and Clyde built several of the homes they shared in Chanute, Carbondale and Topeka, KS; Bella Vista, AR; and Harrisonville, MO. Helen moved to Belton, MO after Clyde's death in 2015.

Helen enjoyed a very active life. She and Clyde volunteered at every Catholic church they attended. She also volunteered for her daughter's Girl Scout troops and elementary school library for many years.

As a young girl, she played guitar and sang in competitions with her father. She also took care of many new mothers and babies.

As a young adult, she worked in an overall factory, and a powered egg factory and was a waitress at the Tioga Hotel in Chanute.

Later as an adult, she sang and played piano and organ, golfed, bicycled, bowled, fished, sewed most of her daughters clothing and several wedding and bridesmaid dresses, crafted Swedish weave, quilted for family, church and friends and handmade many holiday decorations and cherished gifts. She was also by her husband's side while they built three homes of their own as well as one for their daughter.

But most of all, she will be remembered for her beauty as a person and for the wonderful confidant she was; always there to listen and support her loved ones.

In addition to her husband, Helen was preceded in death by her parents Lawrence E. and Elizabeth E. Kennedy; and brothers Paul Joseph, Bill and Larry.

She is survived by daughters Patty and husband (deceased) Ray VanScoy of Lee's Summit, MO, Debra Rush-Gerber of Kansas City, MO, and Susan and husband Cary Kauffman of Olathe, KS; grandchildren: Tricia, Tawn, Tara, Adom, Sarah, Will, Taylor and Evan; great grandchildren: Ryan, Trenton, Connor, Shawn, Anna, Kasen, Mia and Milo; and siblings: Ada Marie, Dorothy, Mary Kay, Ed, Kenny, Lou, Jolene, Dick, Jack, Carolyn, Frank, and Sharon.

***PRIVATE FAMILY SERVICES***

For family, visitation was held followed by a church luncheon, Tuesday, February 13, 2018 at Our Lady of Lourdes Catholic Church, Harrisonville, MO. Internment will be at Orient Cemetery in Harrisonville.

Donations may be given to The American Heart Association or to The Lady of Lourdes Catholic Building Fund.

Services are under the direction of Dickey Funeral Home, Harrisonville, Missouri.