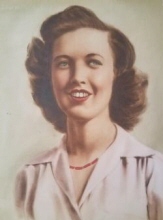 Obituary for Jeanne Marie Jeffcoat
Jeanne Marie Jeffcoat, age 89 of Independence, Missouri, died peacefully October 10th 2017 at the River Falls Area Hospital; River Falls, Wisconsin. Jeanne was born on March 7, 1928 in Butler, Missouri; the daughter of Grady and Mabel (Charters) Smith. She was raised in Butler where she graduated from high school. She was united in marriage to Howard Jeffcoat to which sons Jim and John were born. This union would later dissolve.

Although she was a private person, she thoroughly enjoyed entertaining good friends and family at her house. She took great pride in her home of 50 years, where relaxing in front of the tv with a cold beer and a canine friend was a favorite pastime. In the mornings a cup of black coffee and crossword was never out of reach as she read through the daily paper the dog brought in. She loved feeding and watching the birds in the yard.

Jeanne is survived by her sons James 'Jim' Jeffcoat of Oklahoma, John Jeffcoat of Independence, MO; grandchildren David (Mary) Jeffcoat, Marie (Tim) Phillips, Theresa (Jon) Roggow; six great grandchildren Joel, Jasper, Zoe, Seth, Ari, and Deacon. She is preceded in death by her parents; sister 'Sissy', and her aunt Lola.

Visitation will be 8:30 a.m. until 9:00 a.m. with Funeral Mass at 9:00 a.m. on Saturday, October 21, 2017 at the Saint Mark's Catholic Church, 3736 S. Lee's Summit Rd., Independence, Missouri. Burial will be in the Oak Hill Cemetery, Butler, Missouri.

Final arrangements are entrusted to Dickey Funeral Home, Harrisonville, Missouri.